Throughout the ongoing coronavirus pandemic, many businesses across the UK have gone above and beyond in rising to the many challenges presented by this unprecedented crisis and pitching in with the national effort.
As lockdown restrictions are being eased, reopening non-essential retail is the next step to restoring people's livelihoods and kick-starting the British economy.
Meet four UK businesses, a diverse quartet of GREAT Inspirations, who have not only done remarkable things for the community at large during lockdown, but who are also embracing a return to trading – inspiring shoppers to adjust to the new normal and ring the tills again.
Founded in 1918, O'Neills, pictured above and main image, went through more than 100 years without laying off staff or shutting a single factory. But when coronavirus hit in March, Ireland's biggest sportswear brand had to break the habit of a lifetime and sack its entire 750-strong workforce at its Strabane factory due to the lockdown.
With sports events cancelled or postponed, orders from teams and retailers vanished.
However, the company was thrown a surprise lifeline when, a day after announcing the layoffs, the Western Health and Social Care Trust approached O'Neills on a Friday about fulfilling a shortage of scrubs to safeguard frontline NHS workers.
Factory staff spent that weekend making sample scrubs. By the Monday, O'Neills had secured an order for 10,000 sets of maroon tops and trousers for GPs at a coronavirus testing centre at Altnagelvin Area Hospital, Londonderry.
As a result, the company rehired 150 workers immediately. It has since brought back more than 400 staff overall as orders from other health trusts across Northern Ireland grew, with the remaining 350 employees being furloughed.
The company now produces some 10,000 sets of scrubs a week. Managing director Kieran Kennedy, a veteran of 41 years at the business, says employees have been supportive of the switch from making sporting goods.
"We are a close-knit community in Strabane. Many employees know people who work in the NHS and they want to give back," he explains. "We could either feel sorry for ourselves or be productive and take a bite at the cherry. Without the NHS orders, we would have had no sales and no cash flow. The scrubs kept the show on the road."
Kennedy says the move outside the company's traditional business area has been relatively easy. For instance, O'Neills had stockpiled a six-month supply of yarn – the raw material for the scrubs and other clothing – from China to hedge against Brexit uncertainty. The company knits the scrubs at its Strabane factory, then dyes and coats them with anti-viral substances at its production plant in Dublin.
Workers on the factory floors are social distancing, as well as wearing face masks, sanitising their hands and having their temperature checked.
Kennedy is upbeat on the company's future prospects, noting that big sporting fixtures are returning, which should boost sales and enable him to rehire more workers. But for the foreseeable future, Kennedy plans to continue producing protective gear – an unexpected new revenue stream.
The gift shop owner donating Happy Bags to locals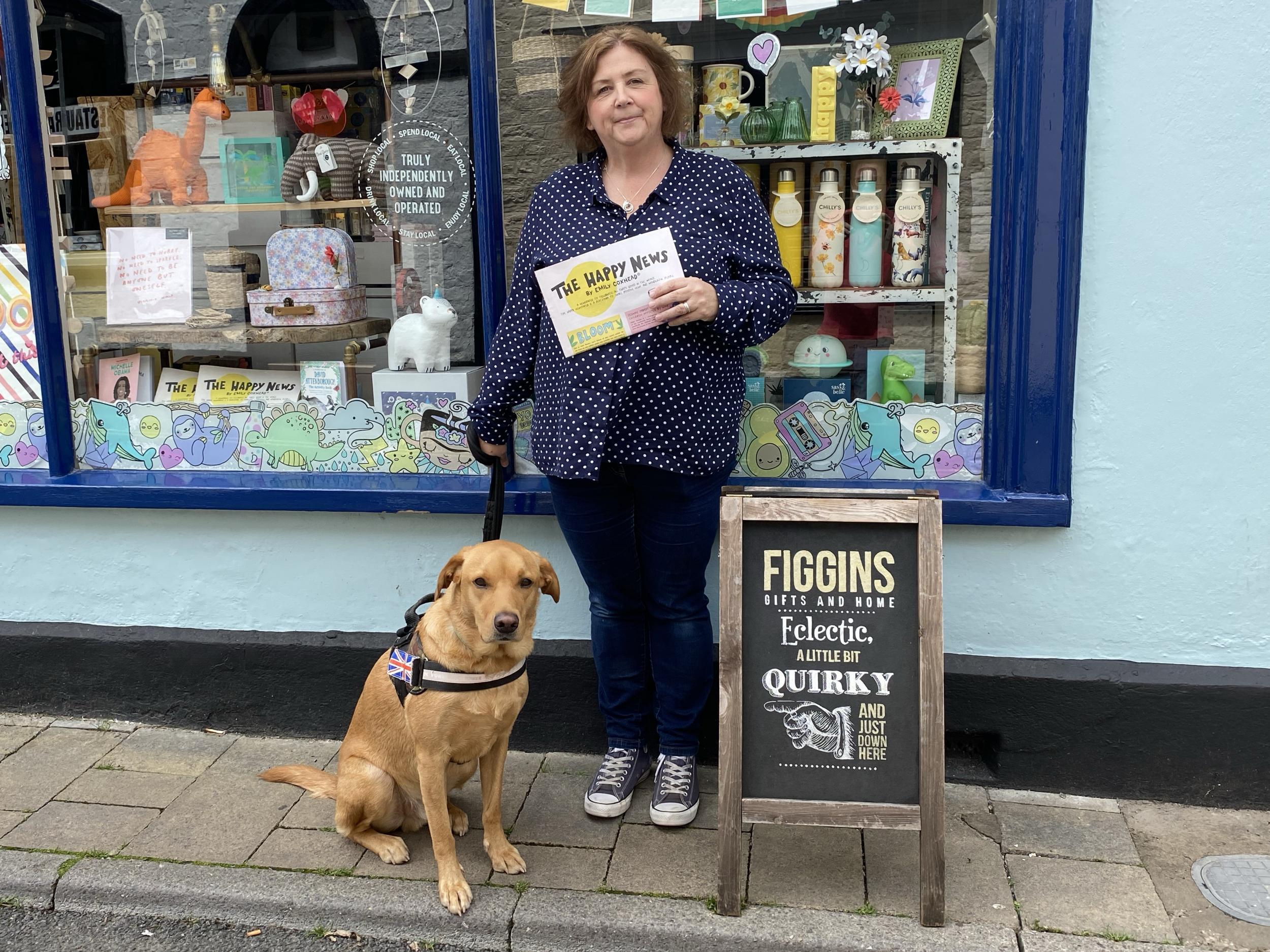 When Sarah Lloyd Williams, pictured above, had to temporarily close her quirky little gift shop in Frome on 22 March, she had no idea what she was going to do with the time ahead.
At first, Lloyd Williams relished the opportunity to spend every day with her dog, Chester, taking him with other dogs out for walks. However, by nature, she is a hands-on person and soon realised she needed to find something to fill her time other than dog walking and cleaning.
She had found out that someone local to her had been having a hard time. "I knew this lady slightly and wondered if there was anything I could do to help," Lloyd Williams explains. "I didn't feel that I knew her enough to contact her offering assistance, so instead I decided to leave a little gift on her doorstep." She called it a Happy Bag, containing a copy of The Happy Newspaper (a quarterly newspaper by Emily Coxhead containing nothing but good news), a chocolate bar, bath bomb and a little note.
This good deed went down very well: the recipient messaged Lloyd Williams to ask if she could buy a Happy Bag for her friend. "I didn't want any money," Lloyd Williams explains. "This was something small that I could do with items that I already sell in Figgins, so I delivered a Happy Bag to her friend and it went from there."
She ended up delivering a number of bags in the local area and it led to doing a few other little things for people, such as picking up medicines, shopping and more dog walking.
For Lloyd Williams, this became a lovely way to connect with people that she barely knew, or had never met before, and it made lockdown much easier to navigate: "Giving away some Happy Bags certainly made me feel much happier. It's a tiny thing, but sometimes that's all it takes to make someone's day," she says.
Figgins has now reopened, with Lloyd Williams taking steps to make sure her shop is safer with a screen, hand sanitising stations, floor stickers and limiting the number of people in the shop at any one time. Lloyd Williams is also donating a Happy Bag every week to someone in the local community.
The car-sharing business helping key workers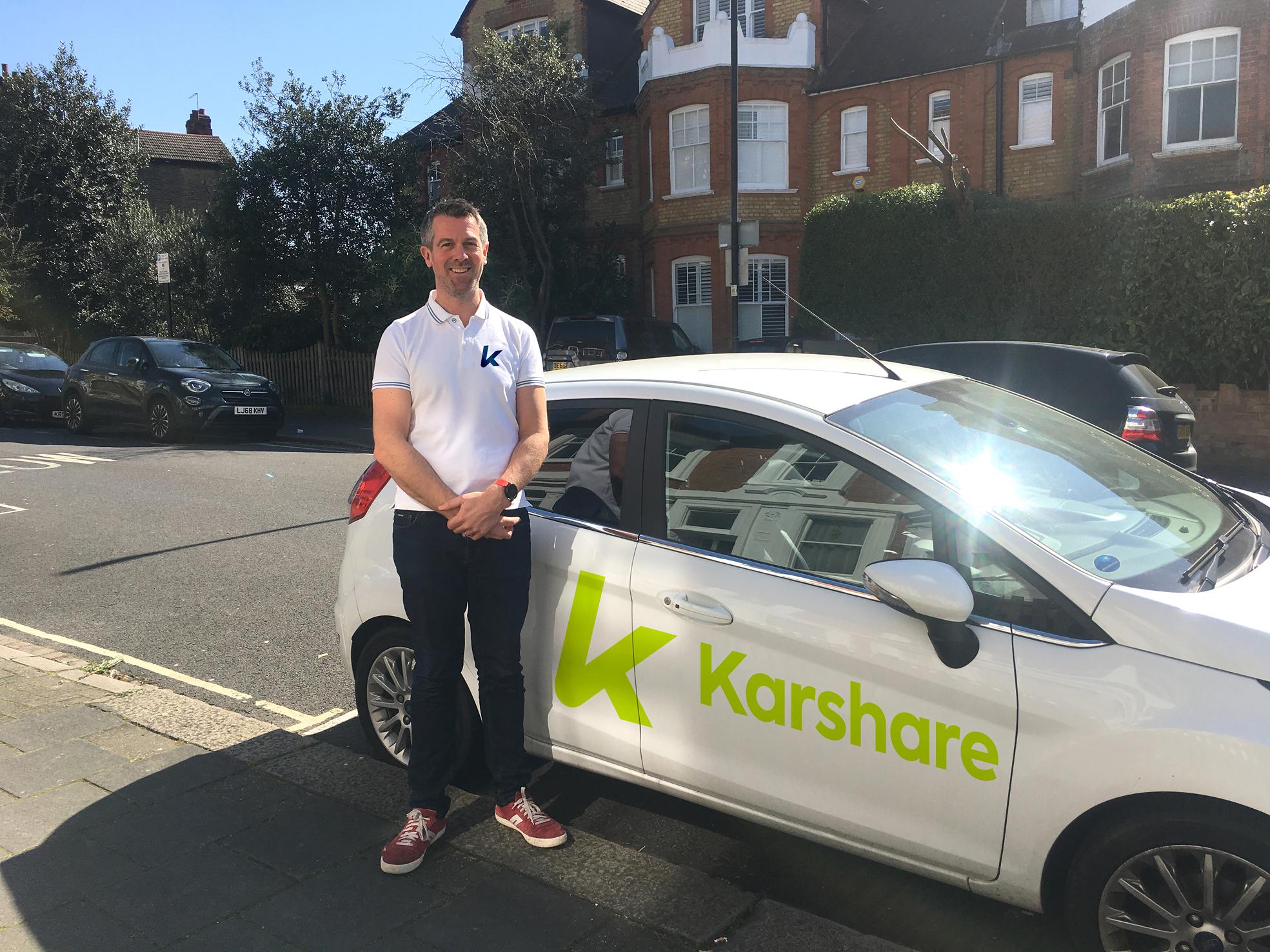 At the start of lockdown, Andy Hibbert, above, transformed his car-sharing business.
Launched in 2017, Car & Away had enabled holidaymakers to rent out their cars from Gatwick and Bristol Airports while they were away, but when the coronavirus forced airports to close, business plummeted.
The CEO from south west London quickly decided to use the business' existing assets to help key workers and launched a new service: Karshare.
"We had this burgeoning desire for people to rent their car from home because it was sat there doing nothing," Hibbert explains. "But then Covid came along. As a business we were stranded. We thought: this is ridiculous. We have all the systems in place to enable us to share cars. Why don't we launch the car-sharing concept where owners donate their cars to critical-care workers and people who are supporting the most vulnerable in our community?"
At the peak of the pandemic, travelling by car minimised viral spread on public transport and limited key workers' exposure, while making their journeys easier at a stressful time. Karshare encouraged members of the public in Bristol, Brighton, London, Manchester and Leeds to donate their cars for a week to NHS staff and volunteer organisations. The cars were then deep cleaned and matched to local key workers in need of transport.
Insurance and road coverage were provided for free, and the owner received a full tank of petrol as a thank you.
Impressively, 700 cars have since been donated – including to 31 London NHS trusts – with a total 19,000 days of use. Leasing company ALD donated 30 new cars in Bristol. "We were overwhelmed initially about the donations," says Hibbert.
One key worker who benefited was Michaela Morris, deputy chief operating officer at the NHS Nightingale Hospital London in Docklands. "She was put into a hotel and told she needs to be on call 24/7, so we quickly found her a car," says Hibbert. "It's remarkable that she has been able to continue that work because of the generosity of the public."
Karshare also helped a care worker who had only been able to reach a couple of vulnerable patients a day on his bicycle. When he was loaned a car he could reach up to 11 – and save more lives.
While Karshare is now focusing efforts on making the business profitable again, it is also inviting donations to critical workers and will ask for contributions to cover the insurance. Karshare is also being extended to the wider community, allowing people to rent their cars from home.
"There are financial pressures for people," adds Hibbert, "yet they've got an asset on their driveway that could really help."
The distillery that swapped gin for hand sanitiser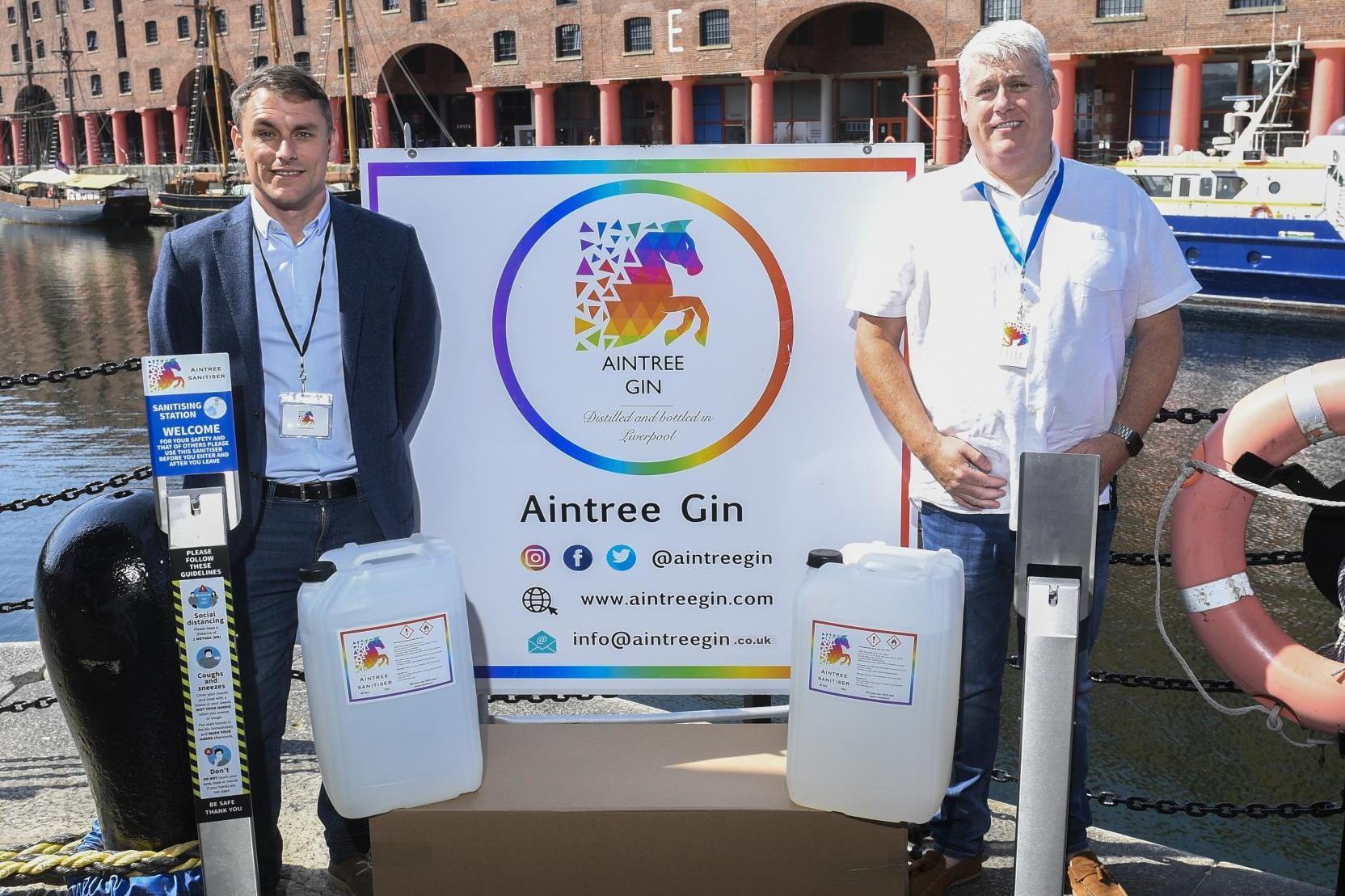 In the midst of a global pandemic, constrained by lockdown, a fledging gin brand was surrounded by alcohol with no bars open to supply. But reports of hand sanitiser shortages hit the headlines and gave the team an idea.
Sean Roche launched Aintree Gin in December 2019. An organic, craft spirit, it takes its name from its home in Merseyside – a village renowned for its famous racecourse which hosts the historic Grand National.
By spring, Roche and the team had introduced the gin to over 30 establishments around Liverpool. They were gearing up for the steeplechase, but lockdown put paid to their plans. "As soon as everything started to shut … all of our income went down to zero," Roche says.
Realising online sales would be key, the team started building a website – then they had a brainwave. "News reports started to regularly mention how shortages of… alcohol-based sanitiser were putting NHS and care workers at risk," says Roche. "We knew that because we were already using pure alcohol to make our gin, we could change our production line to make sanitiser."
Their first batch was ready within weeks. Word got out and, soon after, they were inundated with requests from care homes, hospitals and more, Roche recalls.
Volunteers were recruited and more than 600 litres were donated in six weeks. But as supplies ran low, and with no money coming in, the enterprise became financially unviable. "We had two choices," says Roche. "Stop – or start selling something."
Opting for the latter, new containers were ordered and labels designed so the sanitiser could be sold online. They started offering a range of PPE products too, from face shields to masks. "This created a revenue stream that allowed us to continue," adds Roche.
A PPE pop-up and free hand sanitiser stations at an Asda store followed. "We donated more than we made in profit over the period," Roche admits.
Today, sales are going strong. As businesses look to reopen, many are turning to Aintree Gin for their sanitisation requirements – and also the brand's primary product. They now aim to supply as many bars and restaurants as possible, and get into supermarkets as well.
"We are proud to have contributed towards an important cause," Roche says of recent months. "And proud to [have been] part of the army of key workers putting the shifts in to keep things moving."